Moffett Field History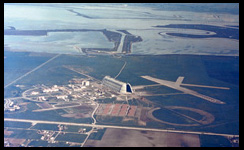 Aerial view of Moffett Field in 1938.
In 1939 the NACA established the Ames Aeronautical Laboratory at Moffett Field, located on the border of Sunnyvale and Mountain View, California. Through time, Moffett Field has hosted the Army Air Corps, Navy, NATS, MATS, NASA, and the National Guard. Since 1994 NASA has served as custodian of Moffett Field ("Moffett Federal Airfield").
The NASA Ames Historic Preservation Office coordinates with state and federal agencies on historic preservation issues related to historic places, historic landmarks and historic districts at Moffett Field. See a brief history of Moffett Field prepared by the office titled, "Moffett Field History: 1933 - Today".
The Moffett Field Historical Society and Museum preserves historical artifacts from the Navy and Army at Moffett Field. Its goal is to capture the heritage of Moffett Field and to pass this information on to future generations.